Create Application Link (legacy)
Only relevant for users with v1 version of the Outlook Calendars for Confluence
The Confluence app uses oAuth 1.0a to connect to your Jira instance. You need to create a new application link, so Confluence can connect to it.
Please follow the instructions carefully - any misspelling could prevent Outlook Calendars for Confluence from working correctly.
1.Open Admin Area
Open Jira and open the products area.
2. New Appication Link
2.1 Create
Afterwards open the menu "Application Links" and create a new link for " https://atlassianconnect.yasoon.com "
2.2 Confirm Popup
There will be a popup, telling you that no response was received. This is no error. The communication with Jira will be exclusively done from Confluence. Our server will at no time connect to Jira directly.
Just click "Continue" to skip to the next step.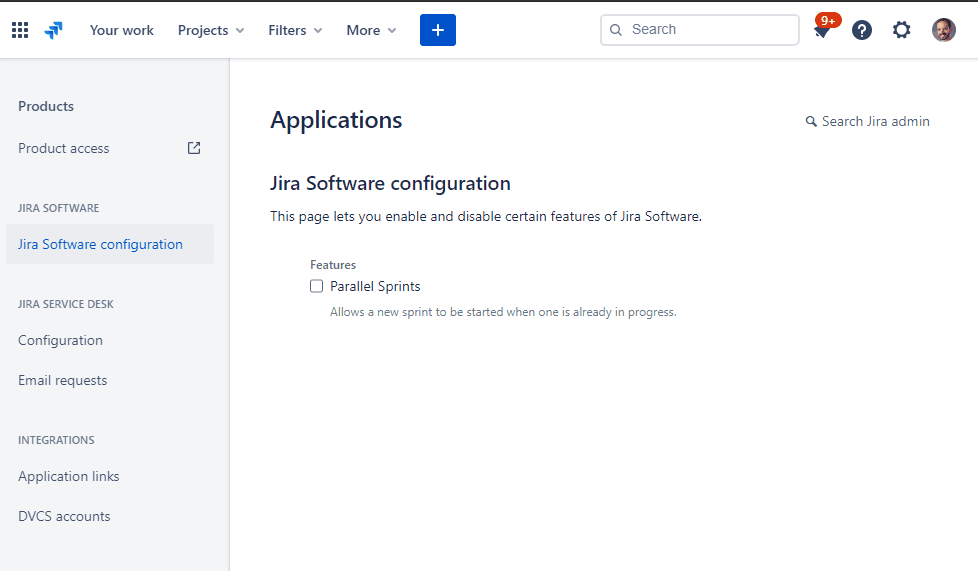 ---
2.3. Maintain Header Data
In the Creation dialog just enter the following mandatory values:
Application Name: Office Calendar for Confluence
Application Type: Generic Application
Continue again to save the application link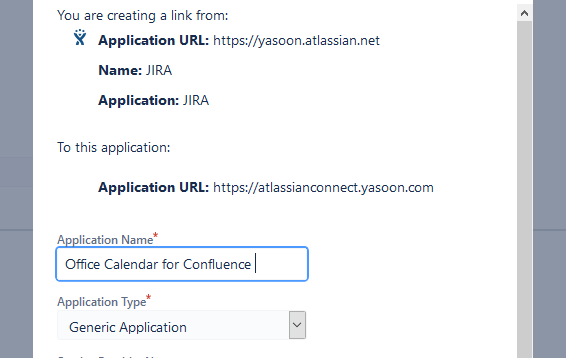 2.4. Maintain Incoming Authentication
There is a bug in Jira and you cannot directly maintain incoming authentication data. So please save the link first and then edit your newly created application and switch to "Incoming Authentication".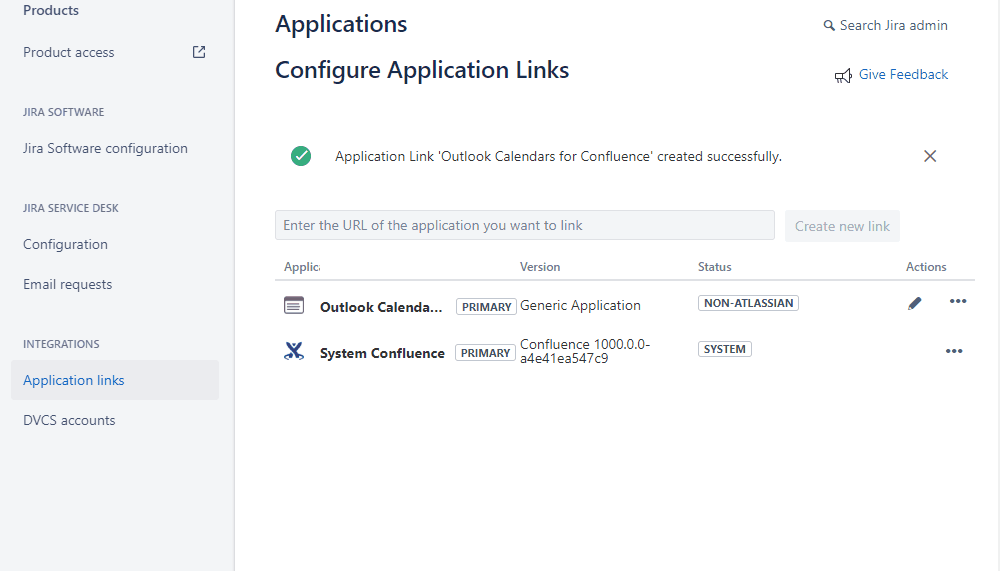 Enter the following values:
Please follow these values carefully. Every misspelling may cause errors later on when using the Confluence add-on. Better spend a minute now to double-check if everything is correct. Thank you!
Field

Value

Consumer Key

yasooncalendar

Consumer Name

Office Calendar for Confluence

Description

<This text is visible to the users. Set a text that helps users to identify this JIRA system>

Public Key

-----BEGIN CERTIFICATE-----
MIIDgTCCAmmgAwIBAgIJAODSfuKknpDhMA0GCSqGSIb3DQEBCwUAMFcxCzAJBgNV
BAYTAkRFMQswCQYDVQQIDAJCVzERMA8GA1UEBwwITWFubmhlaW0xDzANBgNVBAoM
Bnlhc29vbjEXMBUGA1UEAwwOd3d3Lnlhc29vbi5jb20wHhcNMTcwODAxMTg0MTA2
WhcNMjYwNTA2MTg0MTA2WjBXMQswCQYDVQQGEwJERTELMAkGA1UECAwCQlcxETAP
BgNVBAcMCE1hbm5oZWltMQ8wDQYDVQQKDAZ5YXNvb24xFzAVBgNVBAMMDnd3dy55
YXNvb24uY29tMIIBIjANBgkqhkiG9w0BAQEFAAOCAQ8AMIIBCgKCAQEAyH0jcwL+
lBTRzoycY/GMeoa1V3120gXtwpsxbJOPdYoRBNSIOYEQ04Qz4MODjbPpWwzKpUyb
DR1oXQpJrQsGRKFSFq3zWd1oJz58XmmgMF89cHN/jNL6t64IW1A6UFXH6ZeKuH5Y
VHgMLxQlXbcXrzFW7q+VZRp311Z9qru/la4fVtgiI/Hu8hMkP5fzoqmTNuV8BtN2
dwRF3fwOwBp2UePcKd2nKQG7HLzRwv7imOQOFY/byfutXJbtqpV7M1+tDNBQXKao
3PgzO/uTkB3cnO5ySmbgeB73G32gNQ1+CdrFL7iyGPP9sN396/skRPM1+CLwNMwg
iYUkn/PGbomQLwIDAQABo1AwTjAdBgNVHQ4EFgQUrAmMdM9bw7VqIK8zxvM9GajM
YYIwHwYDVR0jBBgwFoAUrAmMdM9bw7VqIK8zxvM9GajMYYIwDAYDVR0TBAUwAwEB
/zANBgkqhkiG9w0BAQsFAAOCAQEAN7NKYKYTr9lv9V02twIrfN9Bz84NTwjVCPPR
ux97h563KJT1InbrnHhj1eCac0Ubs+wX47J+mdfR4AjT6s4/sH3tccz3EnfzeMum
R/xnvM8Ybvlkoa8cz1LNmAZqZhf5rIU+TdFTsjCk3JiBSdYYUEZWESeGP/4/MHoh
De188x5ZSfy2uGfDbSABT0r26hoUykFYpqee/nLJmFwCyCPcZeUfHBXockWs4B10
AViKN3Z57VgqiZ96D/U72QLrLHsJhjZrJ6ScK0en5ODdCpKWOrO/jfI/vLLXJv+X
jRPIm3B8zJtqnj4HApCGN4VXomTzIUBaRp3VkM04ZhpZ8i4Fwg==
-----END CERTIFICATE-----