Use the power of Microsoft 365 in your Confluence calendars! Secure, accurate, seamlessly integrated, and very powerful: Enjoy full-scale team calendaring including your Jira dates in Confluence. Benefit from real-time data, no sync needed. Enjoy smart calendaring in Confluence for you and your team.
Have a look on our feature-list and deep dive into our product.
---
📢 Overview
Add Outlook calendars to Confluence pages or spaces

Add calendars to Confluence spaces
Add shared or personal Outlook calendars to spaces in Confluence. The app is already available in your sidebar and allows you to directly set-up an Outlook or Jira calendar. Choose from our edit screen.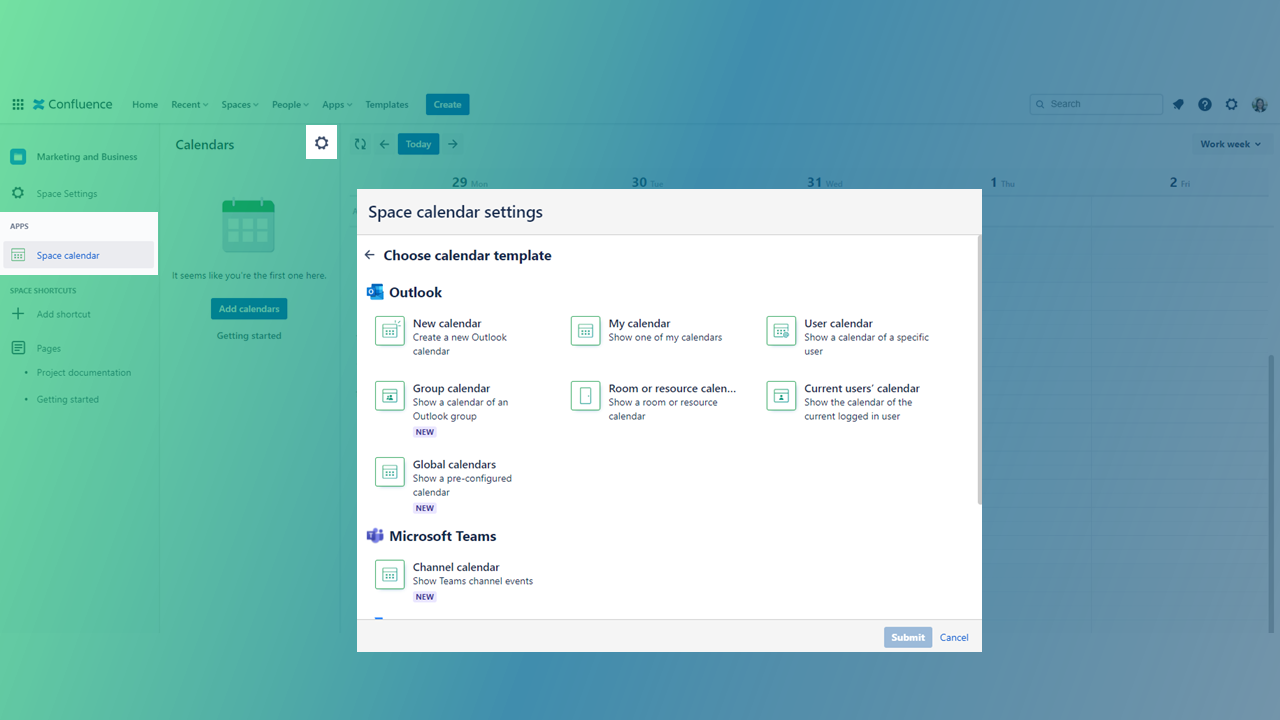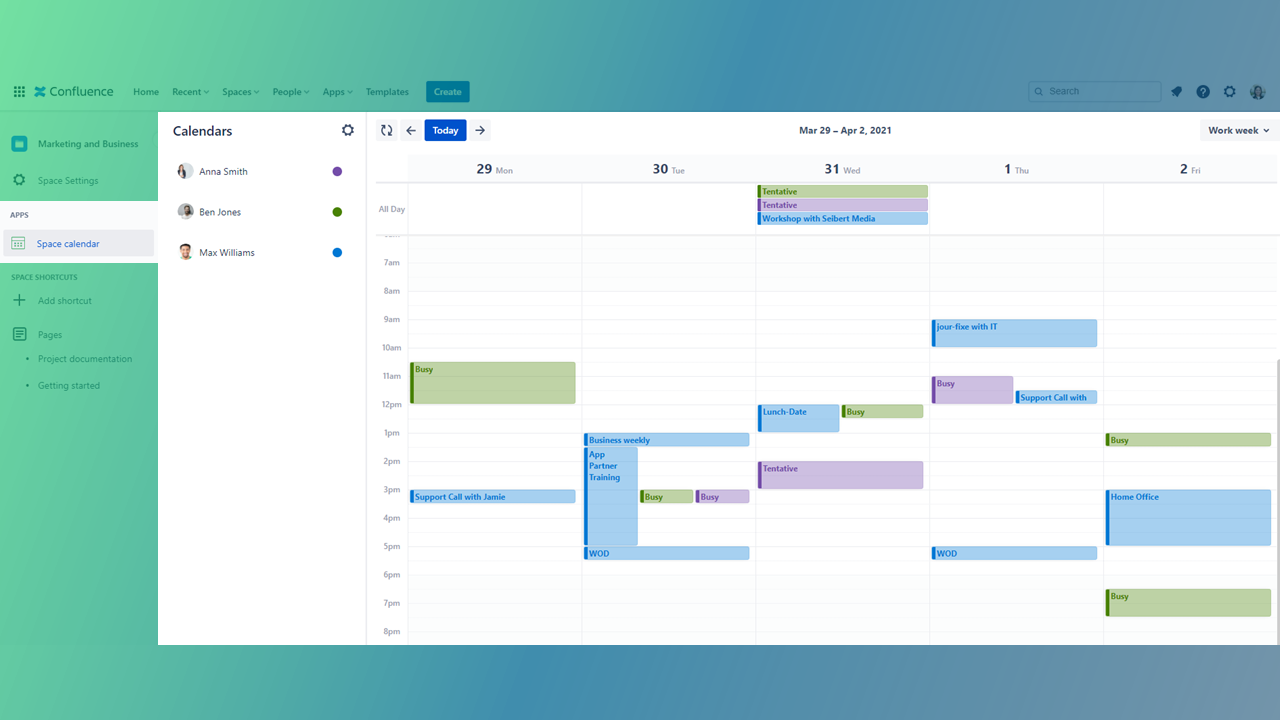 ---
Add personal calendars to Confluence spaces
Add and set up your own personal Outlook calendar and/or Jira dates right where you need them: in your Confluence space. You can find the app in the ribbon under "Apps".
---
Add calendars to Confluence pages
Add calendars to individual pages in Confluence. Select a page, type "Outlook …" and you can easily access our app. Set-up your calendar and make project-related data available for your whole team.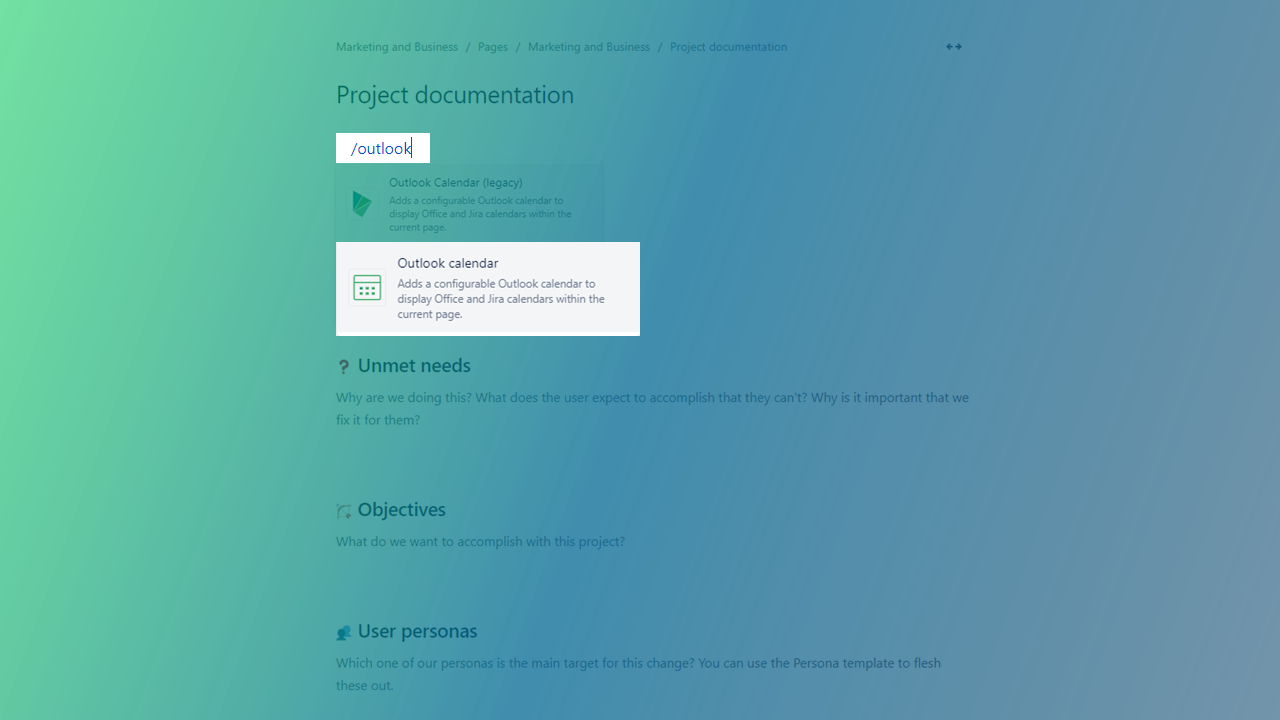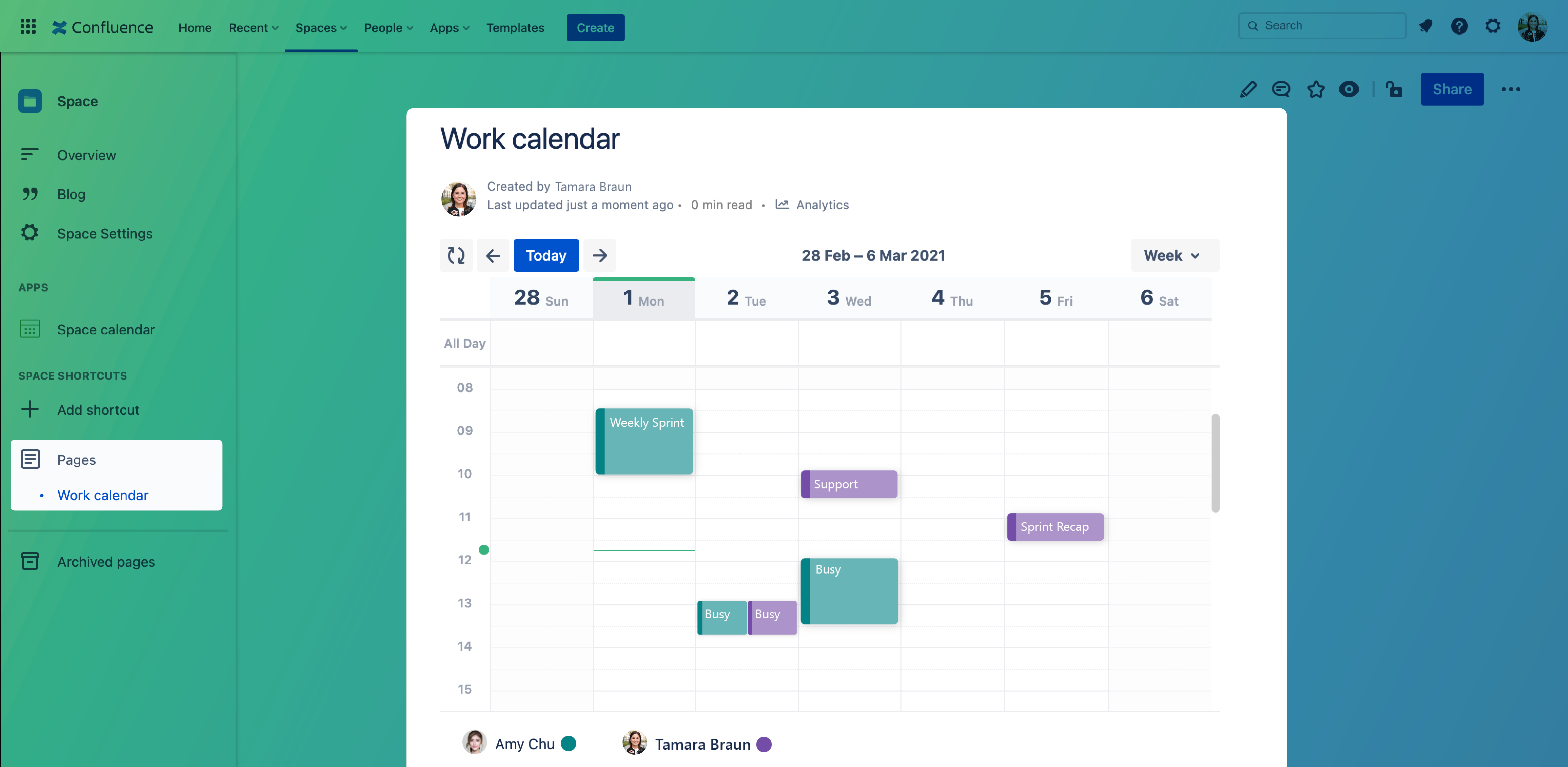 Add Outlook calendars to pages by searching for the app. With just one click you can directly select the most suitable calendar template with individual default settings.
---
Work with Outlook calendars in Confluence
Add calendars easily with templates
Add calendars easily by selecting from the calendar templates available in our (new) edit screen. Every single calendar template provides useful default settings which makes it easier for you to start working with your calendars in Confluence. Of course, choose between different view options: calendar, timeline, and list view for each individual calendar template.
---
Choose between different layout options
Change the calendar layout depending on the calendar dates you share.
Jira dates might better be displayed in a timeline view (e.g. Jira releases or sprints) while shared Outlook dates will better be displayed in a calendar view (e.g. holidays or user calendar's).
---
Insert a current user's Outlook calendar
The calendar automatically displays the data of the team member who is currently viewing the Confluence page.
---
Show and edit personal Outlook calendars
Add and edit Outlook calendars in Confluence pages and/or spaces. Work with personal Outlook calendars and share person-related data whenever needed.
---
Show and edit shared Outlook calendars
Add shared Outlook calendars such as vacation leaves or birthdays on space level to make relevant (team) information available for everyone.
---
Schedule Outlook & Microsoft Teams meetings
Schedule Outlook and Microsoft Teams meetings directly in Confluence. Even decide on whose behalf you'd like to schedule the meeting. All attendees will receive an Outlook meeting request first, which they need to accept (as usual).
View meeting details with a click.
---
Work with Jira calendars in Confluence
Insert a current user's Jira calendar
Make (relevant) Jira calendar dates available for any team member accessing the Confluence page. This function might especially useful for our Jira Jira power users who are in charge to keep an eye on current (Jira) milestones.
Select the template "Jira JQL filter", insert a calendar name e.g. "My Jira calendar", set the respective JQL filter "assignee = currentuser()", choose a calendar color and submit the calendar dates.
Additionally, you can decide on some editing options when sharing the calendar.
---
Show and edit Jira dates (issues and releases)
Connect your Outlook Calendars in Confluence with Jira for insights into project progress. View all your issues/releases at once, or any single custom date field in your calendar (also based on custom fields).
---
Show Jira sprints as events (Cloud only)
Add Jira sprints as events to your calendar in Confluence.
---
Simple permission management
Manage calendar permissions easily yourself. Choose who can see or edit calendars in Confluence.
Decide if everyone with access to the Confluence space or page can view the data shared or if it should only be those with a Microsoft 365 or Jira Log-in.
You can even allow for non-Confluence users to access your calendar data shared on a page or space (admin configuration needed).
Sharing of Jira information is only available for Confluence Cloud.
💡 Learn more about the configuration options for admins.
---
Show and edit group and Microsoft Teams calendars
Work with Microsoft Teams channel calendars: Create Microsoft-Teams-native calendars and add them to any Confluence page or space. We also allow for an editing of your Teams calendars, if needed. The same goes with your Outlook group calendars!
💡 Learn more about the configuration options for admins.
---
Work with global calendars
With Outlook Calendars for Confluence, you are now able to work with global calendars in Confluence. Add global calendars to your Confluence space or page and make important information available for your team.
💡 Learn more about the configuration options for admins.
You want to add a new global calendar? Select the "add new calendar" template from our edit screen and choose from the global calendars available (see below example "Confluence").
---
Book resources easily in Confluence
Conveniently book resources, e.g. meeting rooms, with Outlook Calendars for Confluence. Select the "Room or resource calendar" template from our edit screen and search for available meeting rooms.
We recommend to use the calendar layout for today or for the work week to access the split resource view (side-by-side view) for a better overview of dates. Here you go!
---
Add your calendars in the Confluence Excerpt Macro
You can add your Outlook calendars in the Confluence Excerpt Macro. The calendar you add to the excerpt becomes the single source, which allows you to make a change in that one place, and all the pages that use the Excerpt Include macro to show that content will reflect the changes you made in the Excerpt macro.
Learn more about the Confluence excerpt macro
---
🔐 Initial log-in
You're using our app the very first time?
If you decide to insert an Outlook calendar, log in with your Office account first. Our app will tell you.

If you decide to insert Jira dates, log in to a Jira instance of your choice. Our app will propose the connected Jira instances.
You managed to log in? Great! You're good to go!