We have consolidated (for now) one main use case in terms of IT project planning. However, we show some options on how to use our calendar when it comes to overall project and deadline management:
---
🔔 Project and deadline management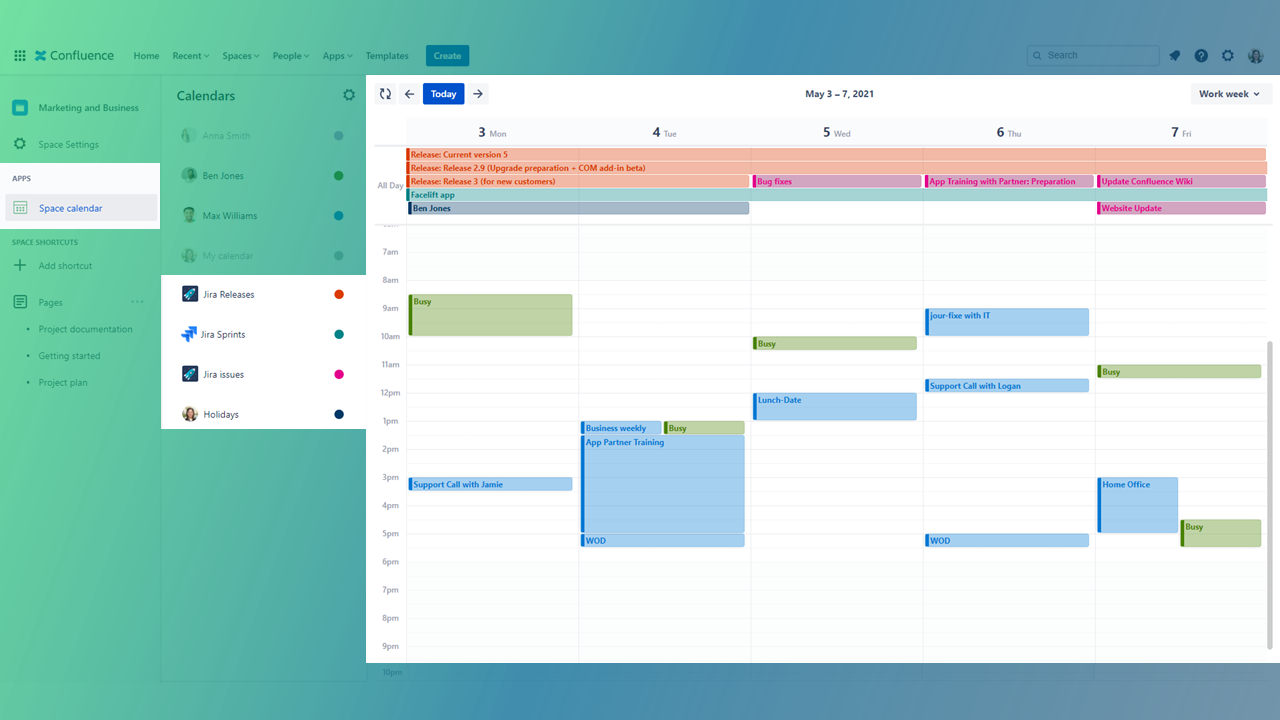 It's a fact: Jira and Outlook data are saved in different places. And constantly switching between programs to access information we need, is both time consuming and annoying.
Wouldn't it be nice to just have relevant information right in one place? Yes!
But currently you only do copy-pasting information from one tool to the other. Maybe you are already using an external plugin which brings data from one tool to the other for you. This might help you in the short run, but again, data either get lost (copy-paste) or are simply not available when you need them (time gap with plugin).
An IT manager for example needs to:
get an overview of his current team members capacities, because the next product release is just around the corner,

have detailed information about relevant Jira dates (e.g. releases, sprints or issues) in order to check on due milestones and

likes his team members to easily access and align their personal dates with the ones he sets up on the project.
Check out our Outlook Calendars for Confluence app to get your IT project management done more effectively.
---
1. Managing of upcoming Jira deadlines (releases and sprints)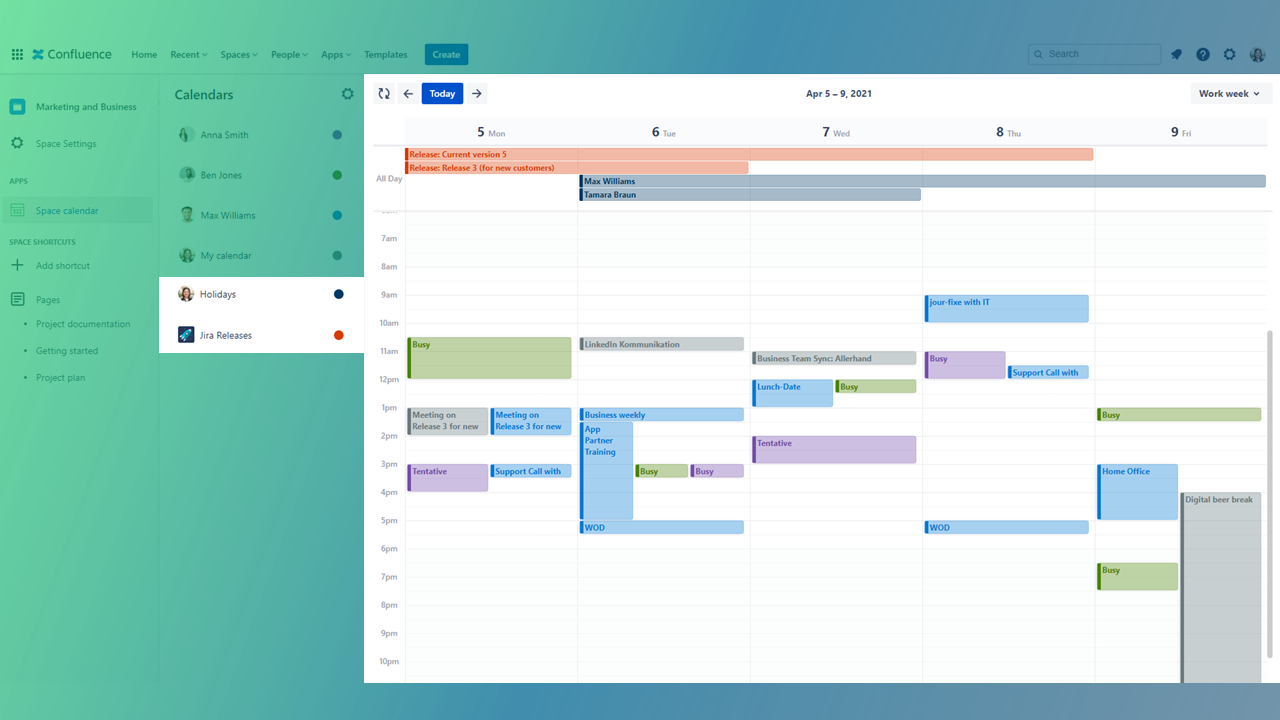 Outlook Calendars for Confluence can help you to have all dates right in one place. As an IT manager it is necessary to be on top things and to know about relevant deadlines.
Sync your Jira releases (or sprints) in your calendar together with all necessary Outlook dates of your team members. Check on their availabilities and align them with due dates of Jira releases. Make sure that deadlines are met and your team is ready to ship any (software) update or product: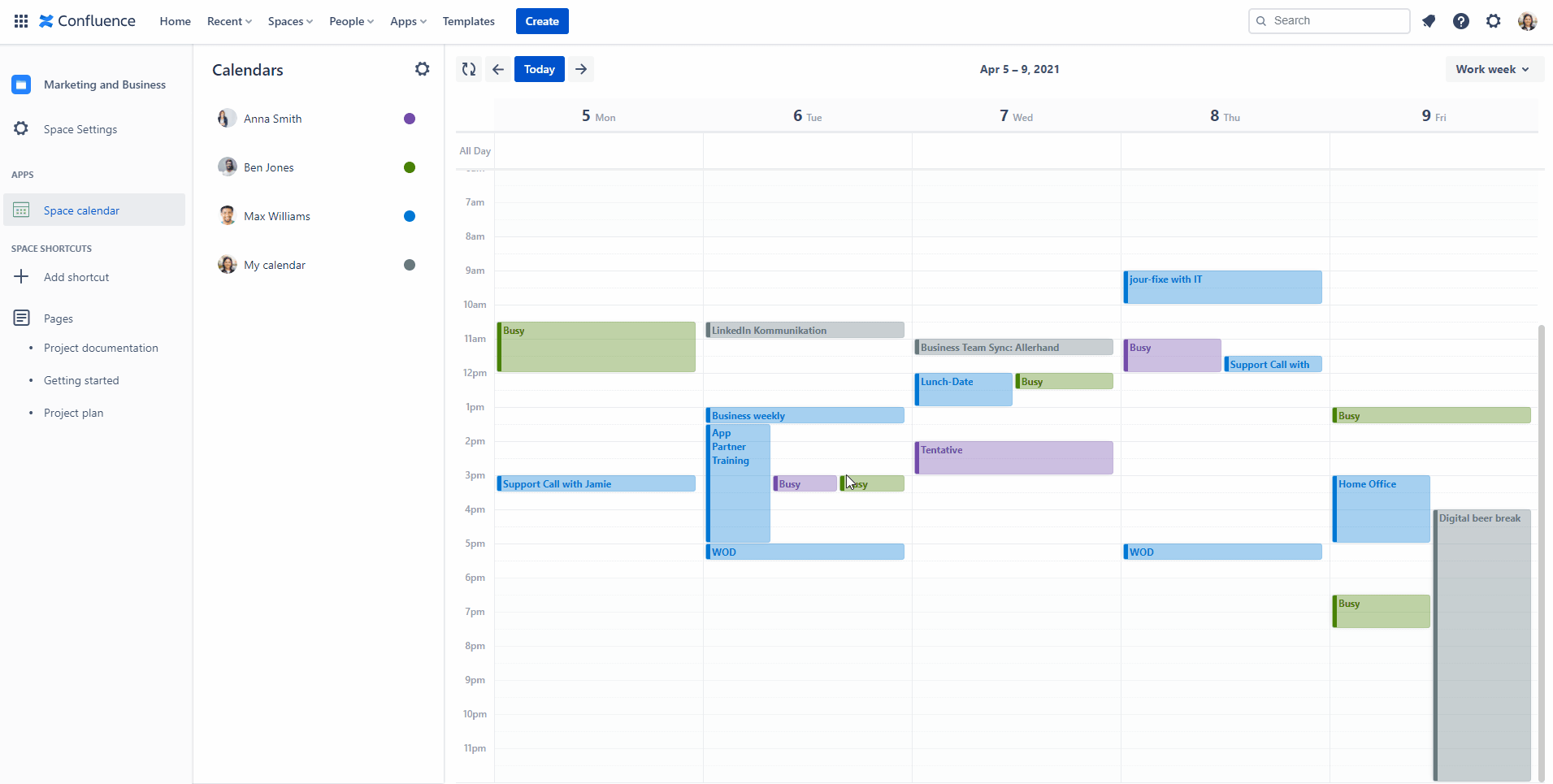 ---
2. Planning and distribution of (due) Jira issues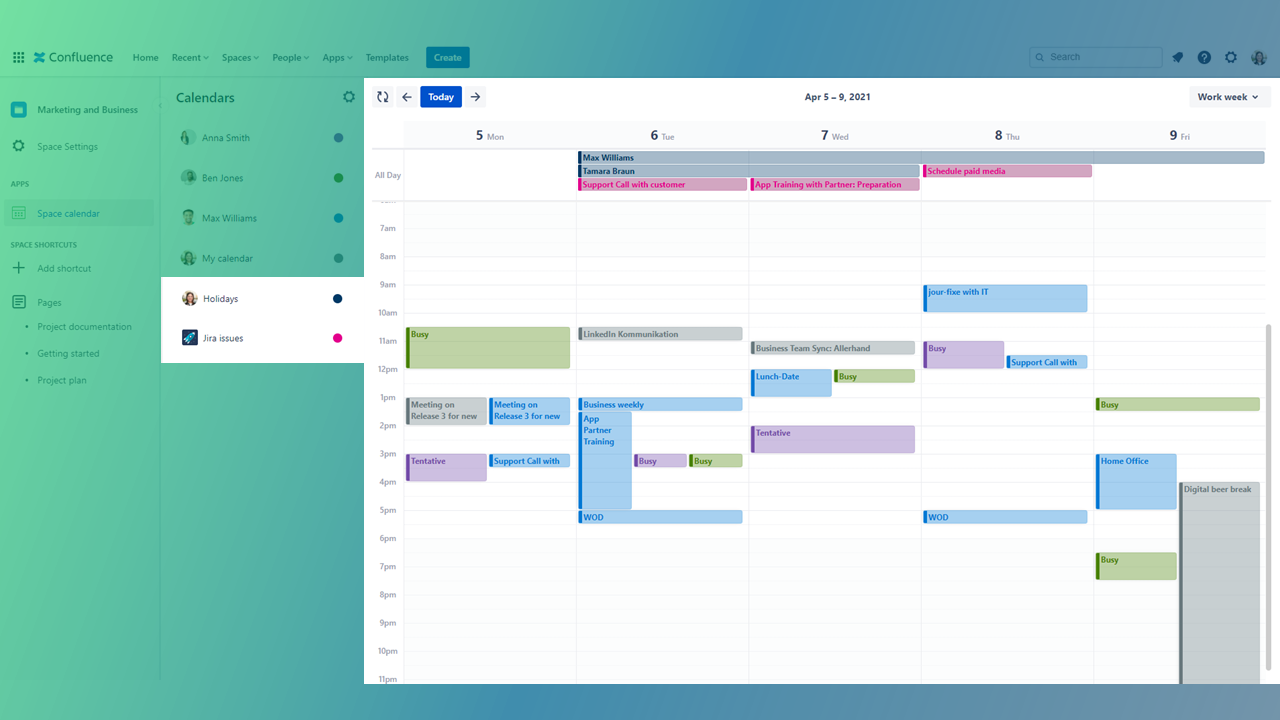 You need to have an overview of all Jira issues with a critical due date? Sure! Also insert your team member's calendars to make sure that due Jira issues can be taken care of in time. Also allow for a current user's calendar to enable team members to see their own personal calendar dates along with project-related data when accessing the Confluence page.
Have Outlook and Jira issue dates right at a glance and keep track of your to do's: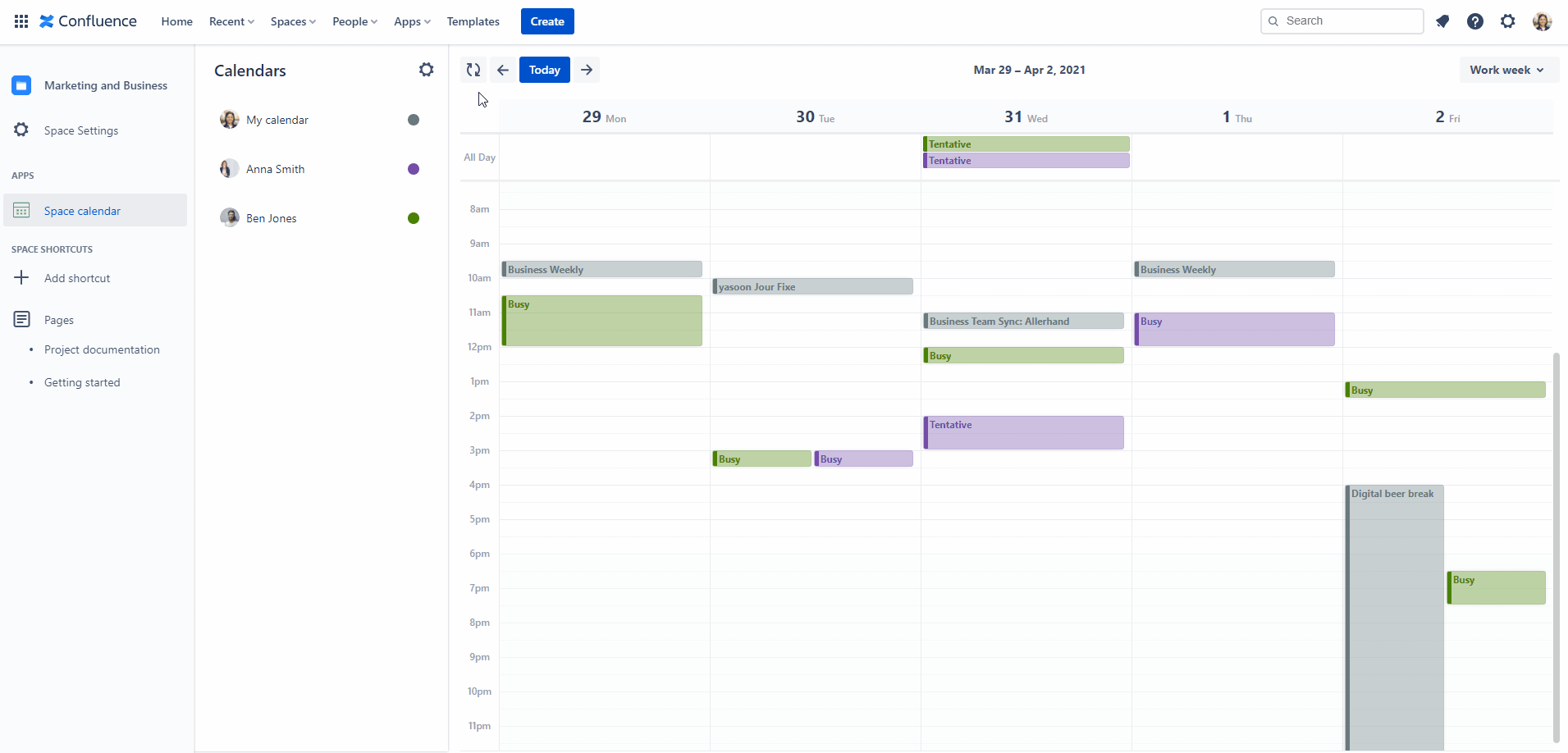 ---
3. Schedule a meeting with your team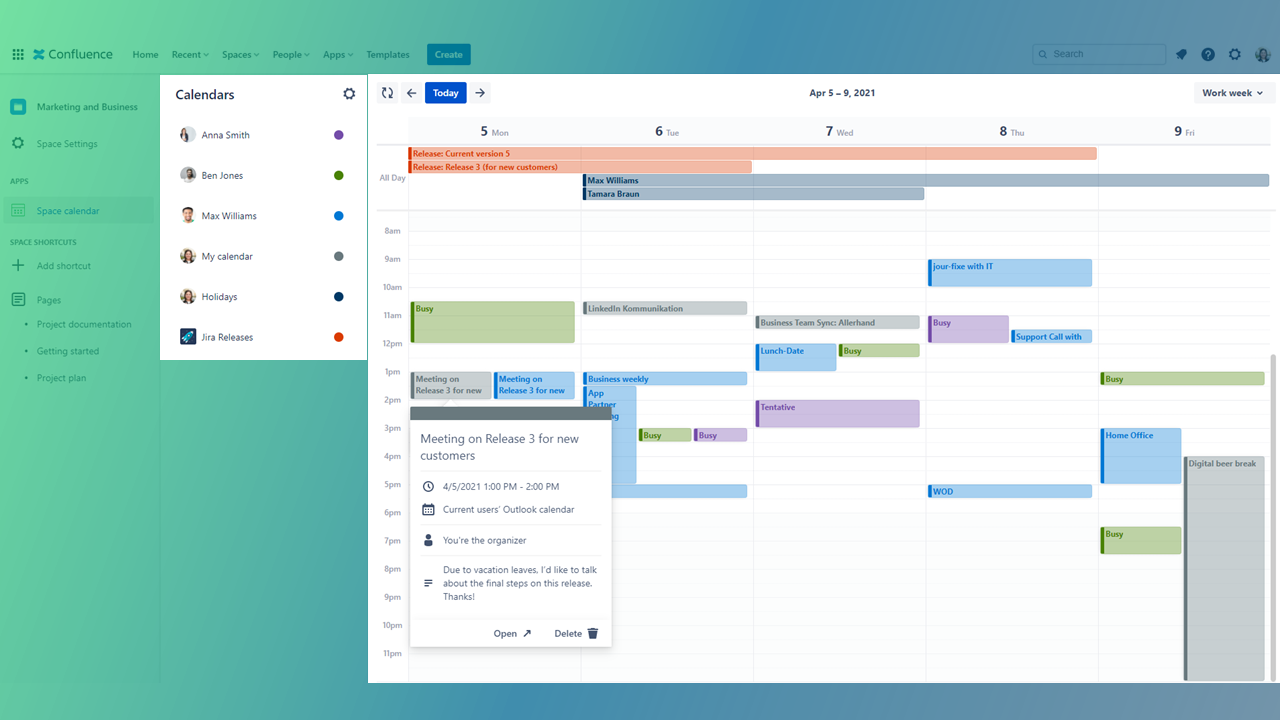 Either way, if you show Jira releases and/or Jira issues in your Confluence calendar together with important Outlook dates (team members' availabilities), it always be helpful to quickly set up a meeting to check on a specific topic.
Choose the timeslot where everyone is available and set up the meeting. Stay on track and get things done:
---
📢 Pro's and Con's

One source of information for all team members

Individual calendaring options and planning possible (due to "Current user's calendar")

Permission management of calendar sharing for Jira dates and Outlook calendars

A central place to work with Jira and Outlook dates

Time intense with initial set-up
---