Confluence Cloud: Upgrade information
Since beginning of March 2021, when we launched our new Outlook Calendars for Confluence cloud app, we kept working on it to provide the same level of features as you know from our existing calendar version - and even more.
Learn on this page how you switch to the all new Outlook Calendars for Confluence Cloud app version.

---
👍 Feature availability
With the latest release, our new Outlook Calendars for Confluence Cloud app also allows you to add global calendars (known as: shared mailboxes from Outlook) to your space or personal calendars!
Due to this development, the new calendar version now provides all features as you already know from our old calendar version - and even more.
Kick-start with the new Outlook Calendars for Confluence Cloud and additionally benefit from:
a more intuitive UI
(allowing for better navigation and usage)

a newly designed edit screen
(simplifying the choice of your calendar template)

specific sharing options
(providing the opportunity to define calendar access among user groups)
🔍 Learn more about what else is new!
---
🚀 Automatic upgrade
All our existing cloud customers are upgraded automatically to the new version. There is nothing to do for you! All settings, all personal and all space calendars will be migrated on the fly. Page calendars cannot be migrated and thus, need to be manually set up by using our new calendar macro (see below).
Be sure, all your existing data will smoothly be transferred to your new calendar version. Already embedded macro calendars won't be affected by the change.
---
📢 New calendar macro
The old calendar macro is renamed into 'Outlook Calendar (legacy)' (see picture below) and is still available for transition purposes.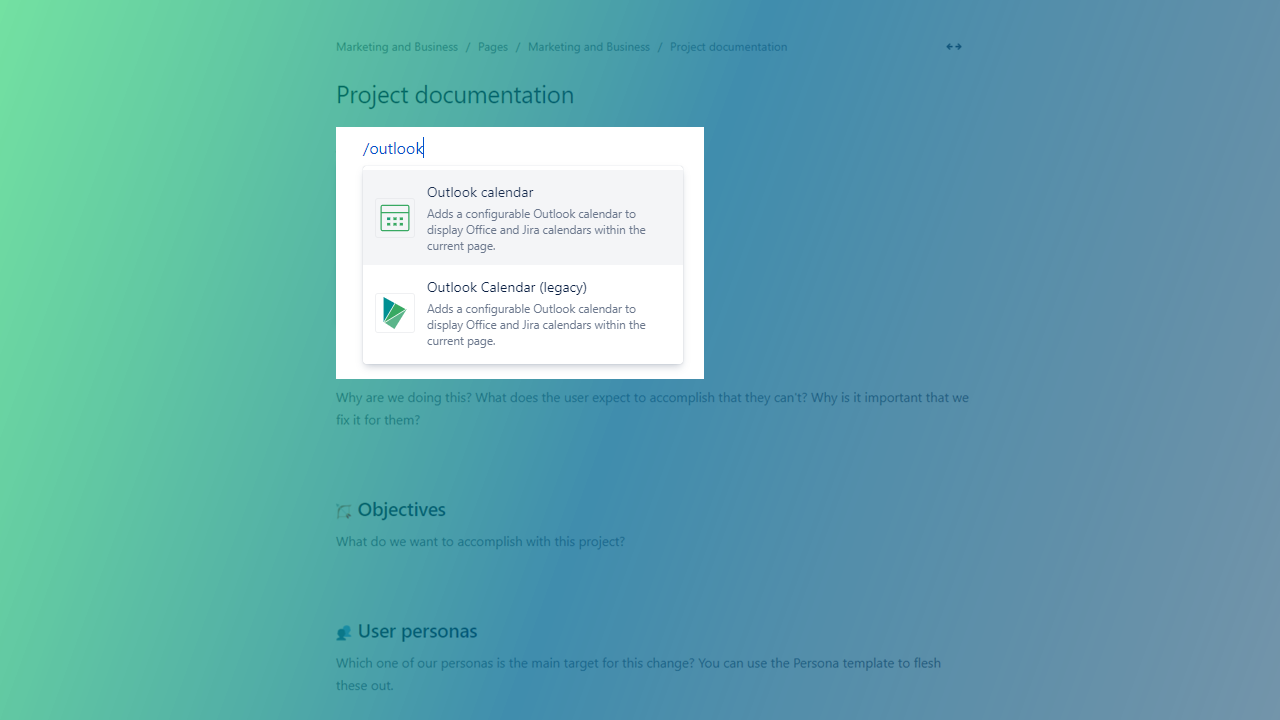 ---
🎯 Changes

We dropped the connectivity against all self-hosted Exchange and thus, the support for Microsoft On-premise solutions.
The reason: Due to the overall development to cloud, we think that there will be no need for this type of deployment anymore and thus, no need to provide corresponding support.
For you, switching to cloud and thus, solely using cloud apps, will mean a centralized hosting with regular and automatic updates, the availability of most advanced features (mainly working with Microsoft 365) and a quick bug fixing process (all our apps e.g. take part in the Marketplace Bug Bounty Program).
---
🧭 Background
Just like Microsoft and Atlassian, we at yasoon put cloud first. This is what we're doing from the beginning. Starting with the cloud versions of our apps and then deciding for server and data center versions.
Cloud apps allow for a quick implementation and a "ready to use" approach while new and advanced features automatically come with a next release.
We rethought and rebuilt Outlook Calendars for Confluence Cloud from scratch to align with the overall development to cloud.
---