Install the Office add-in
1. Office add-in

Outlook Email for Jira comes in two different Outlook add-ins.
📌 This article refers to the modern Office add-in for Office 365 or modern Exchange 2016+.
🤝 Instructions for the older COM add-in can be found here: COM add-in.
2. Installation
MICROSOFT 365 ADMIN
There are multiple ways to install the modern Office integration into your Outlook:
via Outlook Store / Get add-ins RECOMMENDED

via AppSource (Office 365 only)

via Manage add-ins
The modern Office add-in is activated as soon as you open your mailbox.
If you install it in one of the following ways, it will be available on every device (Outlook for Windows, Mac, Web and Mobile).
If you have multiple email addresses in your Outlook, you will need to install the add-in separately for each email account.
Installation via Outlook Store / Get add-ins
RECOMMENDED
The most convenient way to install Outlook Email for Jira, is via the Outlook Store. Simply open Outlook and select Get Add-ins in the top toolbar and search for yasoon or Outlook Email for Jira. Please select Jira for Outlook.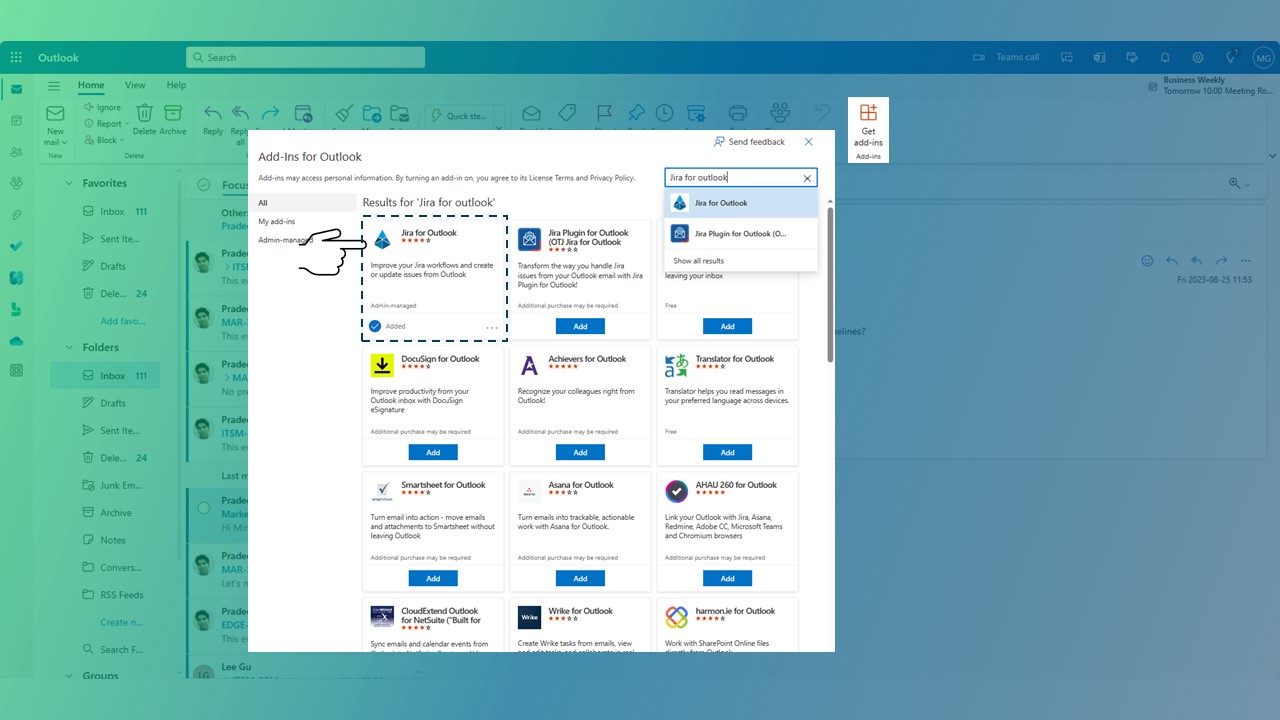 If you have an older Outlook version, the button Get Add-in might be called Store and maybe looks differently.
Installation via AppSource
Using AppSource is only possible with Office 365.
To do so, please Open our add-in page, then login with your Office 365 account and click on Get Now.
Installation via Manage add-ins
This method is only recommended if your company disallows the use of the Microsoft Office store. Because then, the first two installation ways do not work for you.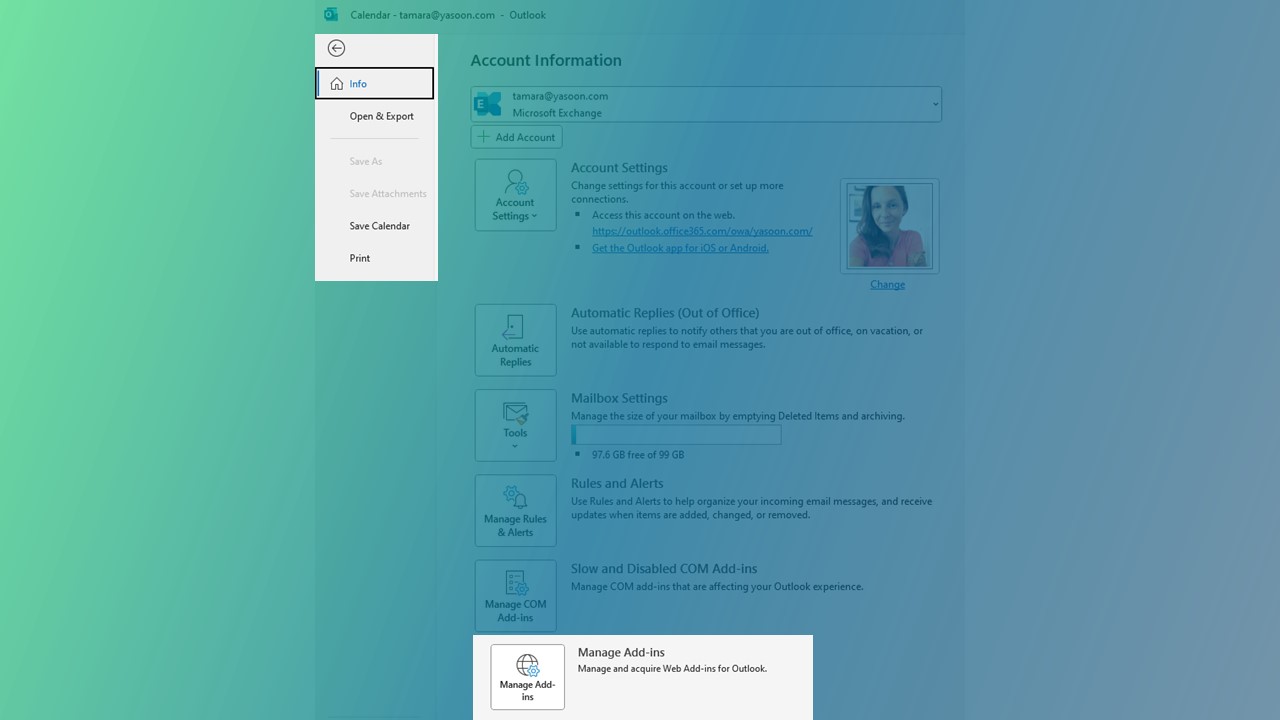 Open File (in the top left hand corner) in your Outlook.

Then select Manage add-ins.

You can now see all modern Office add-ins currently installed. Click on the plus icon to add another one. Choose Add from a URL and insert this link: https://office365.yasoon.com/jira/manifest-store.xml. After that, click next.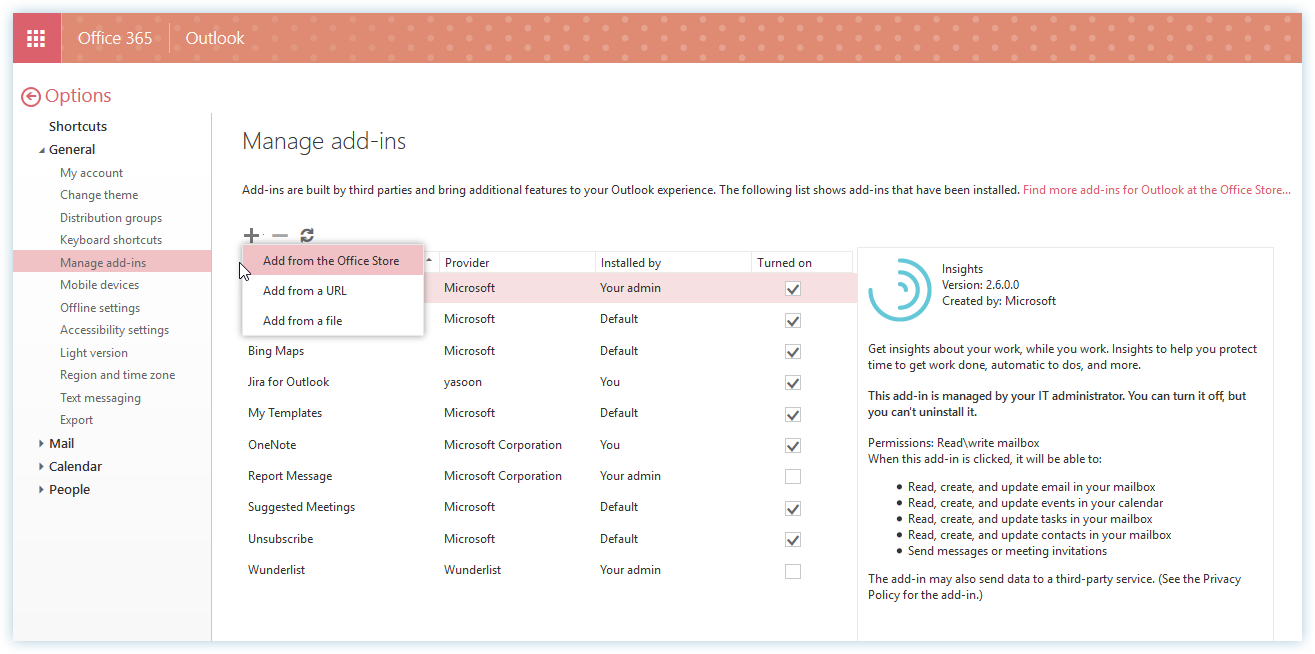 This is how you look for the add-in on the web.
How to find the Office add-in in your Outlook (webversion)
Once the add-in is successfully installed, you will see the following three buttons in the top toolbar of your Outlook. You can now use Jira in your Outlook.
Outlook web version: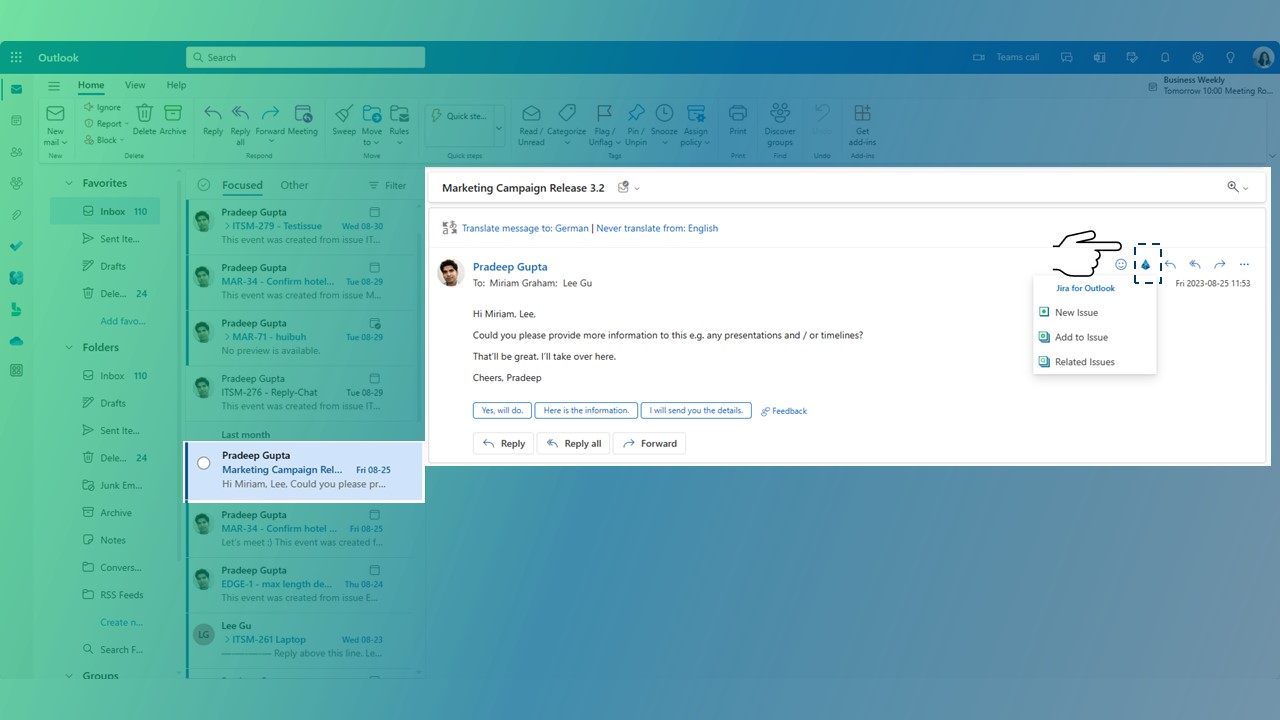 Outlook desktop app: